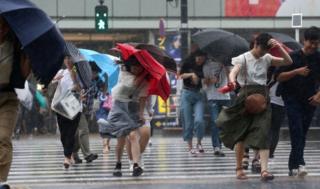 A powerful storm has hit central and western Japan, injuring at least 19 people and cutting power to thousands of homes.
Typhoon Jongdari (or "skylark" in Korean) brought torrential rain and winds of up to 180km/h (110mph).
It made landfall on the country's main island, Honshu, at 01:00 (16:00 GMT Saturday) on Sunday.
Weather officials have since downgraded it to a tropical storm, but warn that heavy rain could trigger landslides.
Japan's public broadcaster NHK reports that 150,000 homes are without power.
As of midday local time, the storm was moving westwards and tens of thousands had been urged to leave their homes.
On Saturday, evacuation orders were issued to 36,400 people in the western city of Shobara, and 6,300 in the city of Kure.
"We are afraid that people may not be able to evacuate due to strong wind or floods blocking evacuation routes," said Hiroshima's governor, Hidehiko Yuzaki.
"I would like people to evacuate in advance so that they can save their lives."
Images have shown huge waves crashing onto rocks off the coast south-west of Tokyo, and ferry services have been suspended.
Late on Saturday, the rough seas smashed through the window of a hotel restaurant in the tourist town of Atami, injuring five people.
"We didn't expect this could happen… Waves gushed into the restaurant as the window glass broke but we are grateful that customers followed evacuation instructions," a hotel staffer told AFP.
Hundreds of flights were also cancelled over the weekend as the storm neared the coast.
'Double punch'
Japan is still reeling from one of its worst flooding disasters in decades earlier this month, which saw more than eight million people ordered to leave their homes. More than 4,000 survivors are still living in temporary shelters.
The floods were swiftly followed by an unprecedented heatwave which was declared a natural disaster.
At least 80 people have been killed by the temperature, and more than 22,000 hospitalised with heat stroke.
The country is now in the grip of typhoon season, which sees tropical storms barrel across the Pacific throughout the summer months.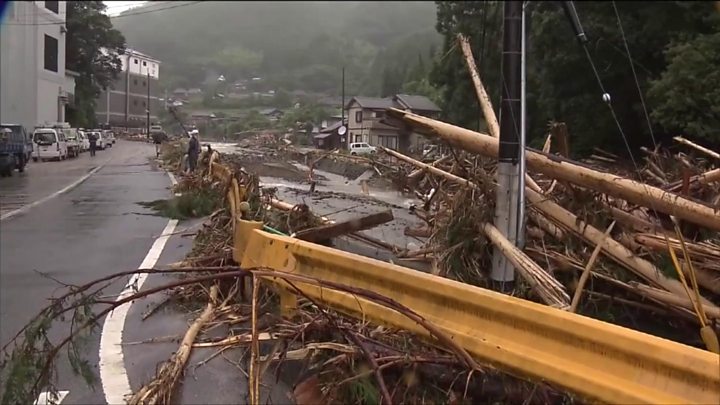 Provinces have been on high alert. One resident in Okayama, one of the prefectures worst-hit by the floods, told NHK he was afraid Typhoon Jongdari would "deal a double punch" to the region.
Meanwhile, Okayama crisis management official Koji Kunitomi told AFP: "We have been on emergency alert the whole time since the rain disaster" in early July.
"Fortunately, so far, we haven't seen new flooding" as a result of Typhoon Jondari, he added.