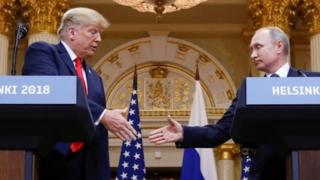 US President Donald Trump has rejected a proposal made by the Russian leader Vladimir Putin that Russia be allowed to question US citizens.
Mr Putin suggested he might in return allow access to 12 Russians indicted by the US, and the White House said the president would consider the offer.
But the offer sparked outrage in the US and calls for it to be rejected.
The citizens Mr Putin was seeking included former US ambassador Michael McFaul, and financier Bill Browder.
"It is a proposal that was made in sincerity by President Putin, but President Trump disagrees with it," White House spokeswoman Sarah Sanders said on Thursday.
"Hopefully President Putin will have the 12 identified Russians come to the United States to prove their innocence or guilt," she said.